Electronics / TV Disposal – From $65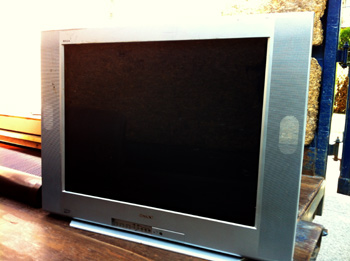 That's Rubbish Junk Removal Service includes recycling of electronics and TV's by removing hazardous waste and recycling as many components as possible. Most electronic appliances have chemicals that poison our environment and could potentially damage our health. That's Rubbish ensures that your electronics or TV disposal is taken care of with the environment in mind, removing hazardous waste from this type of junk and recycling as much as possible.
Electronics we will recycle:
Prices for TV disposal start at $65
Our TV disposal service cost includes two workers – sometimes needed for those big projection TV's and we always have a dolly just in case!
All kinds of TV parts can now be recycled. We will carefully remove your old TV or electronics from your home, apartment or business and dispose of it properly. Our friendly and professional crew will even wear booties to keep your home clean.
Electronics Recycling
You can call the RECYCLE Hot line at 604 -Recycle ( 604-732-9253 ) to find the nearest electronic recycling facility to your home or office or for more information on what electronics can be recycled visit www.return-it.ca/electronics/products/.
As a local Vancouver-based junk removal and TV disposal business, we believe that all junk and rubbish that can be recycled should be recycled. That's Rubbish only uses licensed recycle dumps to dispose of electronics removed from your home or business.
Here are just a few of the reasons you should give us a call for your junk removal needs:
You will always get a personal touch from our family-owned business
Our prices are among the lowest in the junk TV disposal industry.