Moving Out Clean Up – Apartment or House
Moving from your apartment, home or office can be quite stressful.
Making the change of address
finding boxes
finding a good mover
sorting and packing
hard days and late night to get things ready for the big day.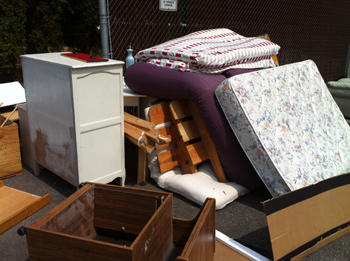 With one quick call to That's Rubbish we can handle the moving out clean up and you can have peace of mind that all of your unwanted junk will be taken away and your place left spotless.
No need taking all that junk with you and having to deal with it at the other end. We can remove the junk from that garage or storage room and leave the home empty and ready for the new home owners to move into.
Office Move Outs
That's Rubbish Junk Removal Services can help you facilitate your office move out.
Arrange with building manager for elevator lock off
Arrange for removal of specialty items to the new location
Coordinate crews of movers and find effective ways for disposal of office furniture and other office equipment.
Work professionally in a timely manner
We carry 5 million dollar liability insurance and are WCB insured